Summer Services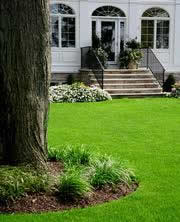 During the summer months, we offer a variety of property maintenance services. Our hardscaping project ideas can help you have the manicured grounds you've always wanted, giving you something you're proud to show off to your friends. Whether it's landscape design you're interested in, drainage projects or retaining walls, your property will become an oasis that you can escape to, away from the hectic pace of work.
Summer Services Include:
Hardscape – Whether you are looking for a new outdoor kitchen or want to consider what types of patios and outdoor fireplaces would work on your property, our talented staff will work with you to provide a customized design that meets your needs as well as your budget.
Spring Planting – Colorful annuals and luscious perennial gardens always spruce up any landscape design. Our experienced staff understands Michigan landscaping and which plants work best in specific climate and soil.
Landscape Mulching Services – The hot sun and refreshing rains of the summer are the perfect ingredients for weed growth. With proper mulching, we can reduce weed growth, allowing your gardens to remain lush and beautiful.

Drainage Systems – Summer rains often create drainage problems that you didn't realize you had. We can provide drainage solutions that will both work with your landscape design and effectively resolve any drainage problems you may have.
Retaining Walls – Whether used as part of landscaping design or to correct a sloping yard, retaining walls are often a useful and cost-effective solution to a variety of problems.
Property Maintenance – From planting annuals and perennials to cutting the grass, we offer different levels of property maintenance that will work with your busy schedule and budget, providing you with a beautiful property throughout the year.
Please look over our many different seasonal and full-time services. If you don't see one please feel free to give us a call (248) 644-8161 or click here to send us an e-mail.
Creative Outdoor Landscaping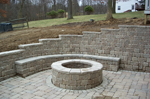 Ever see something on the TV or internet and wish you could have it in your backyard. Well now you can, with the popularity of DVR's and camera phones. Snap us a picture and e-mail it to us with your contact information and we will be more then happy to call or visit you with a quote.